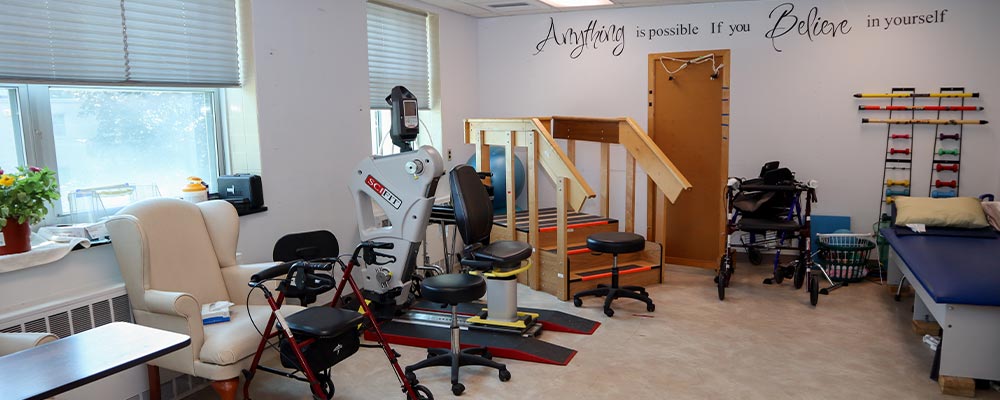 High-Quality Therapy and a Safe, Quick Return Home
Ensuring the support you need to live a healthier life.
Warde Senior Living provides a wide range of short-term skilled nursing and rehabilitation services for individuals seeking a safe, quick and effective return home from a hospital stay or injury.
Our comprehensive physical, occupational and speech-language therapies are designed to fit your needs, reduce your risk for setbacks and restore your ability to perform at the highest degree of independence and functionality.
Individualized Rehabilitation Services to Fit Your Unique Needs
Once you get settled in, our highly-trained team of nurses, rehabilitation therapists, dieticians, social workers and nursing assistants will sit down with you to gain an understanding of your goals and expectations. From there, we'll develop a personalized plan of care carefully customized to best support you, and help you not only reach – but exceed – your goals.
We'll continue to cheer you on with every win and motivate you to move forward through any challenging moments. Together, we share in the focus and commitment to restoring your full functional ability and getting you back home in no time.
The Warde Approach
Discharging from a hospital to a rehabilitation setting can be a difficult process – you may be nervous or worried, with many questions. It's our promise at Warde to reduce the stress on patients and families and make the transition as smooth and hassle-free as possible.
Our staff will:
Work with case managers, providers and family members to streamline admission.
Clearly explain the process from admission to discharge.
Help you understand your payment options, including Medicare and commercial health insurance coverage.
Put together your own rehab team that works in coordination with your surgeon or primary care physician.
Give you the highest level of privacy possible.
Be available when you need us to answer questions and address concerns.